IE-NDT Ltd.,Unit C, Heath Farm, Swerford, OX7 4BN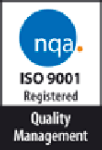 IE-NDT Ltd.
Europes Leading Manufacturer and Supplier of;
IQI's / Image Quality Indicators, Penetrameters,Duplex IQI, Spatial Resolution and Focal Spot Patterns,
Viewing
Radiation Safety
Lead Marker Tapes


IE-NDT Ltd. is Europe's leading manufacturer and supplier of radiographic accessories for non-destructive testing.
Our product range is extensive covering Image Quality Indicators / Penetrameters (IQI), marker tapes, industrial x-ray darkrooms and accessories, Kowolux viewing equipment and radiation safety accessories.
Our website shows part of our extensive range; if you have requirements that are not shown please call or email us for information.
We are also happy to provide technical information relating to our products. There is a selection of downloadable PDF's under our brochures section on this web site. Other information is available from us direct.
IE-NDT Ltd. supports a worldwide customer base exporting its extensive product range to Europe, North America, Asia and Africa. For shipping information and lead times please call us or email.