IE-NDT Ltd.,Unit C, Heath Farm, Swerford, OX7 4BN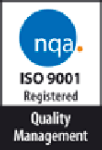 IE-NDT Ltd.
Europes Leading Manufacturer and Supplier of;
IQI's / Image Quality Indicators, Penetrameters,Duplex IQI, Spatial Resolution and Focal Spot Patterns,
Viewing
Radiation Safety
Lead Marker Tapes


Over the last fifteen years and more, there has been a rationalisation of American standards for IQIs. For all practical purposes, plaque type penetrameters manufactured in accordance with ASTM E 1025 are now acceptable when working to: ASME V, ASTM E 142, ASME SE-142, ASME section VIII, API 650 and API 1104.

The penetrameters are characterised by having three holes: 1x, 2x and 4x the thickness (T) of the material from which the penetrameter is made, with minimum diameters of 0.01, 0.02 and 0.04in.


They are available in a wide variety of materials: stainless steel, aluminium, aluminium-bronze, brass, copper, cupro-nickel, inconel, magnesium, monel, nickel, phosphor bronze, titanium, hastelloy, Haynes 25 (cobalt) and waspaloy.
Each penetrameter is identified by a batch number etched into the rear face and is supplied complete with a declaration of conformity in a plastic wallet.
CAT. NO. 10.24.07/...
ASME/ASTM E-1025 Plaque type Image Quality Indicators / IQIs (Penetrameters)
BACK