IE-NDT Ltd.,Unit C, Heath Farm, Swerford, OX7 4BN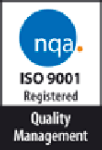 IE-NDT Ltd.
Europes Leading Manufacturer and Supplier of;
IQI's / Image Quality Indicators, Penetrameters,Duplex IQI, Spatial Resolution and Focal Spot Patterns,
Viewing
Radiation Safety
Lead Marker Tapes


These IQIs comprise six parallel wires, encapsulated in thin PVC with two radio-opaque identification plaques. Each IQI is batch numbered and is supplied with a Declaration of Conformity in a storage wallet. The certificate contains a quality history and a print out of the wire diameters*. Our manufacturing and inspection procedures form part of a Quality System registered to ISO 9001.


The 2004 revision has been published. It contains a few changes from the last revision of 1997: a) there is no longer provision for the continuing use of IQIs made to the old 1994 revision, b) the possible use of European EN wire IQIs is specifically permitted by contractual agreement.
The following models, known as "sets" in the standard, are available:
CAT. NO. 10.24.20/...
* All IQIs are individually serialised and supplied with wire measurements.
ASTM E-747 Wire Type Image Quality Indicators / IQIs
BACK