IE-NDT Ltd.,Unit C, Heath Farm, Swerford, OX7 4BN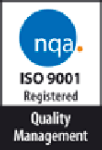 IE-NDT Ltd.
Europes Leading Manufacturer and Supplier of;
IQI's / Image Quality Indicators, Penetrameters,Duplex IQI, Spatial Resolution and Focal Spot Patterns,
Viewing
Radiation Safety
Lead Marker Tapes


ASTM Contrast sensitivity gauges
ASTM E 1647-03, "Standard Practice for Determining Contrast Sensitivity in Radiology" specifies a convenient method for the initial qualification and subsequent monitoring of the imaging performance level of radiographic (film based) and, especially, radioscopic (filmless)imaging systems.
The performance level is expressed as a combination of contrast sensitivity (C) and spatial resolution (U). U in millimetres is the total unsharpness measurement obtained from examining the image of a duplex IQI to EN 462-5. C in % is obtained from one of the gauges described below. To quote from paragraph 5.3 of the Standard, 'As an example, an imaging system that exhibits 2% contrast sensitivity and images the 0.1 mm EN 462-5 paired wires (equivalent to imaging 5 line-pairs/millimeter resolution on a line-pair gage) performs at a 2%-0.2mm sensitivity level.'
Gauge size
Each gauge comprises a rectangular block with four flat-bottom recesses that represent 1%, 2%, 3% and 4% of the gauge total thickness (T). There are four specified gauge sizes, ranging in length from 3in to 12in. The appropriate gauge size depends on thickness of the test specimen with which it is to be used.
Gauge thickness
The gauge thickness (T) is the same as that of the test specimen (+/- 5%).
Gauge material
The gauges can be manufactured in the following materials:
Group 03 Magnesium
Group 02 Aluminium
Group 01 Titanium
Group 1 Steel or stainless steel
Group 2 Aluminium bronze alloy
Group 3 Inconel
Group 4 Monel
Group 5 Tin bronze alloy
All gauges are made specially to order. Please specify the required gauge thickness (T) and gauge material.
Contrast Sensitivity Gauges to ASTM E 1647
BACK