IE-NDT Ltd.,Unit C, Heath Farm, Swerford, OX7 4BN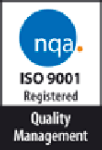 IE-NDT Ltd.
Europes Leading Manufacturer and Supplier of;
IQI's / Image Quality Indicators, Penetrameters,Duplex IQI, Spatial Resolution and Focal Spot Patterns,
Viewing
Radiation Safety
Lead Marker Tapes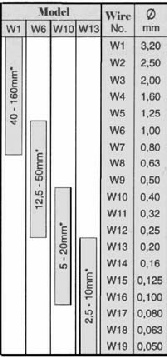 The International Standards Organisation issued Standard No ISO 19232 in June 2013. This replaces EN 462-1 but there is no practical difference as the Standard states that "EN wire IQIs of EN 462-1:1994 and its designation are identical with ISO wire IQIs" The wire diameters and system of numbering follow the previous DIN practice. IE-NDT manufactures EN 462-1 IQIs in steel (FE), Aluminium (AL), Copper (CU) and W6, W10 and W13 Titanium (TI).


Description. Wire type IQIs to EN 462-1:1994 manufactured by IE-NDT Ltd. comprise seven parallel wires 10, 25 or 50mm long, which are encapsulated in thin, transparent plastic along with a radio-opaque identification plaque. Each IQI is supplied in a wallet. For ease of recognition, the wallet carries stickers showing the IQI model and wire length it contains. These are colour coded:

Blue Yellow Red White
Steel Aluminium Copper Titanium


Quality Assurance. Manufacturing, including inspection, follows a written procedure, which forms part of a Quality Management System registered according to ISO 9001. Each IQI carries a unique serial number. The Declaration of Conformity according to ISO/IEC 17050-1 provides a complete manufacturing history as well as a printout showing the measured diameter of each wire.


The official description of an IQI reads, for example;
IQI EN W10 FE 50. This means an IQI containing wire
W10 to W16 in steel with a wire length of 50mm.
EN 462-1 Wire type Image Quality Indicators / IQIs
BACK
To download a PDF product brochure click HERE.