IE-NDT Ltd.,Unit C, Heath Farm, Swerford, OX7 4BN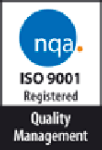 IE-NDT Ltd.
Europes Leading Manufacturer and Supplier of;
IQI's / Image Quality Indicators, Penetrameters,Duplex IQI, Spatial Resolution and Focal Spot Patterns,
Viewing
Radiation Safety
Lead Marker Tapes


BACK
FEDREX PU Splash Proof Processing Units
Rectangular tanks
All tanks take sheet films up to 35cm wide and 48cm long. FEDREX PVC 10 tanks also accept roll films on spirals up to 5m long.
The tanks can be used as replacements in FEDREX FP-2, FP-3 and TP-3 processing units.

FEDREX PVC 3, 15 litre Tank CAT. NO. 14.16.21
Lid for FEDREX PVC 3 CAT. NO. 14.16.24

FEDREX PVC 5, 25 litre Tank CAT. NO. 14.16.22
Lid for FEDREX PVC 5 CAT. NO. 14.16.25


FEDREX PVC 10, 50 litre Tank CAT. NO. 14.16.23
Lid for FEDREX PVC 10 CAT. NO. 14.16.26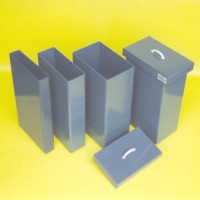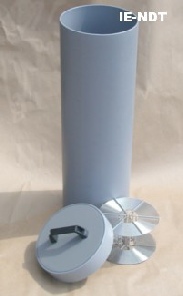 Cylindrical tanks
Designed for processing roll film on FEDREX stainless steel spirals, they will also accept a single channel hanger up to 15cm wide.
Volume:
15 litres
Number of spirals:
7 x 70mm OR 5 x 100mm
Size:
610 x Ø203mm
Weight:
1,35 kg
FEDREX PVC RF-200 Tank
CAT. NO. 14.16.31
Lid for FEDREX PVC RF-200
CAT. NO. 14.16.32