IE-NDT Ltd.,Unit C, Heath Farm, Swerford, OX7 4BN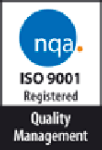 IE-NDT Ltd.
Europes Leading Manufacturer and Supplier of;
IQI's / Image Quality Indicators, Penetrameters,Duplex IQI, Spatial Resolution and Focal Spot Patterns,
Viewing
Radiation Safety
Lead Marker Tapes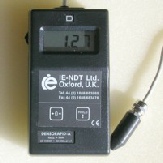 IE-NDT DENSY 210 Densitometer
A microprocessor based densitometer, which combines very high degrees of accuracy and repeatability with an automated routine for monitoring film processor performance according to EN 584 Part 2. The unit is fitted with an RS 232 C serial interface so that process control data can be downloaded to a computer.
Technical data
Measuring range:
0D to 6,00D
Calibration:
According to ASTM E 1079-00, traceable to
NIST
Accuracy:
+/- 0,01D (up to 2,00D)
+/- 0,02D (above 2,00D)
Repeatability:
+/- 0,01D
Zero drift:
+/- 0,02D over 8 hours
Dimensions (L x W x H):
300 x 320 120mm
Supply required:
230V AC 50Hz
Weight:
2,98 kg
CAT. NO. 15.15.04
IE-NDT DENSORAPID A Densitometer
A compact, battery powered instrument with hand-held "wander" probe for measuring densities while the film is on the viewer. Primarily intended for site use, the unit is supplied complete with mains adaptor/charger in a tough, plastic carrying case.
Technical data
Measuring range:
0,1 to 5,0D
Calibration:
According to ASTM E 1079-00, traceable to
NIST
Accuracy:
Better than +/- 0,05D
Film viewer luminance range:
15.000 to 80.000 Cd/m²
Mains adaptor input voltage:
230V AC, 50Hz
Carrying case dimensions:
355 x 275 x 55mm
Overall weight
1,1 kg
CAT. NO. 15.15.05
BACK
Next Densitometer