IE-NDT Ltd.,Unit C, Heath Farm, Swerford, OX7 4BN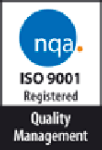 IE-NDT Ltd.
Europes Leading Manufacturer and Supplier of;
IQI's / Image Quality Indicators, Penetrameters,Duplex IQI, Spatial Resolution and Focal Spot Patterns,
Viewing
Radiation Safety
Lead Marker Tapes


DIGIT-X Densitometer
A hand-held transmission densitometer combining ease of use with high accuracy and repeatability. The fine fibre-optic probe allows small areas of film to be measured accurately with readings being displayed on the large clear LCD panel to 2 decimal places. Battery usage is minimal and low battery warning indicator is provided on the digital display. In use the probe is placed on the illuminated film viewer and the 'Zero' button momentarily pressed. The digital display will read 0.00. The instrument is then placed on the film and the density readings obtained.
Technical data
Measuring range:
0-4D
Accuracy:
+/-0.05D
Repeatability:
+/- 0.02D
Power supply:
9V PP3 battery
Battery life:
2,500 hours
Dimensions (Instrument):
210 x 60 x 40mm
Dimensions (instrument and case):
235 x 210 x 70mm
Overall weight:
675 g
CAT. NO. 15.15.06
Transmission density stepwedge film, calibrated to ASTM E 1079
Stepwedge film with 14 steps, traceable to NIST, for use as a calibration piece when adjusting and monitoring the performance of densitometers. Supplied in a plastic wallet with certificate.
Certificate available in English, French, German, Italian and Spanish.
CAT. NO. 15.15.08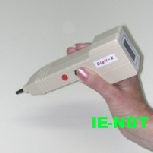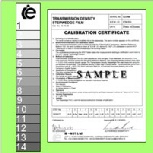 BACK
Prev Densitometer